The world of cafés in Ho Chi Minh City is diverse, thus meeting a wide range of demands. There are numerous cafés designed for the younger generation and you can see lots of the Saigon cool at many modern-styled cafés, especially on weekends. Among the coffee shops are a few places where this generation can do something quite useful for them or for the society.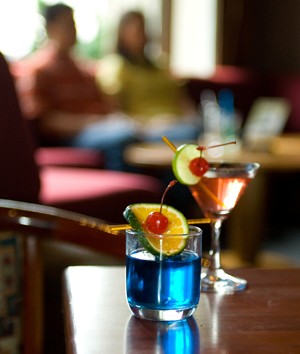 Tonic drink is served at many cafes (Photo: TT)

Learning English
Café Sozo on Bui Vien Street in the backpackers' area in District 1 has many activities designed for the youth. Notably, a free English speaking club has been maintained there over the past few years, opening on Tuesday and Friday nights. English practitioners at the club are different in terms of age and job – younger students, higher education students, employers, and even those over 40 years. Asked about the reason why she comes to Sozo, third-year Foreign Trade University student Nguyen Thi Hong Nhung says, "I like to come here because I can talk to foreigners, improve my English and understand more about other countries' cultures."
Besides the English speaking club, Sozo often organizes charitable activities to help poor and underprivileged children, and one of them is the Thao Dan program, where volunteers teach street children to help them escape illiteracy. The program has attracted many young volunteers. Application is quite simple – applicants fill in the form and send it to Sozo, then comes the interview.
In 2006, Ba Ria-Vung Tau was one of the southern provinces worst hit by a devastating typhoon. And Sozo called on the public to contribute donations to support the provincial victims. Among relief Sozo contributed was 2,000 kilos of rice.
Interestingly, the café owners are American ladies Sarah and Rachel, who are just 25. They are volunteers who came to Viet Nam to support those in need.
Rachel says, "The reason I selected Viet Nam to go because I love the Vietnamese people very much."
In the beginning, the two Americans did not know how to support the needy effectively. Then, the idea of opening a café came to their mind; they implemented it and took in street children to give them a job.
Everyone is a sunflower
'Sunflowers' is a special café, where all attendants are hearing-impaired persons. The café is very small and located at 173 Tran Huy Lieu Street, Phu Nhuan District. The former name was Lặng (silence) and the previous owners were three journalists, who transferred the shop to a 24-year-old woman called Kim Uyen. She then renamed her café Sunflowers.
"Besides doing business, I want to do something meaningful for the hearing-impaired. I selected the name because I think each person is a sun flower that is in full bloom in the sunshine."
In this café, many paintings of different sizes are hung on the wall. The arrangement of the pictures seems to tell you a story about hearing-impaired children who wish to be able say and be listened like normal people. The story seems silent but not, in fact.
Although being hearing-impaired, the attendants serve their way. They invite guests to order by pointing at the menu items or writing on a sheet of paper. You also have a chance to see them talk with their hands, or practice the sign language if you like – they will be your teacher. Every Saturday from 2-4 pm is the dedicated time for an instructor to teach guests the sign language. To say "thank you", you huddle your fingers, move them to your chin and smile freely.
In addition, this café is a get-together place for those carrying out small community assistance projects such as collecting books, study implements and used clothes needy children, or gathering donations for the underprivileged.
Book and Exhibition cafés
Café Mcomics at 99B Vo Thi Sau Street is a popular address for teenagers who are fond of comic books. The shop is designed in Japanese style, expressed by the setting and impressive pictures. Besides comic books are books of different types such as short stories, funny stories, novels, and fictions about Chinese swordsmen. Especially, Mcomics houses a small studio to serve the cool who like to perform singing and record it.
Besides Mcomics, you can visit Book Coffee Shop at 105 Tran Hung Dao Street, District 5 or Boom on Nguyen Tri Phuong Street, District 10, to read books of various kinds as in Mcomics.
If you love fine arts, you should come to see Himiko at 15B, Phan Dang Luu Apartment Blocks in Ward 3, Binh Thanh District. The co-owners are a group of sculptors and students of the University of Fine Arts. Many visitors are impressed by the creative design by the owners, which is supported by sculptures, paintings and decorations. Sometimes, Himiko also serves as an arts gallery.
Ms. Nguyen Kim Hoang, who runs the café, says, "Our idea to open this shop is to support arts, promote arts exchanges, and display our works as well as help young and would-be artists exhibit their works."