Climbing Mount Yen Tu, it's easy to see why King Tran Nhan Tong selected the mountain as the location in which to establish the Truc Lam Buddhist Sect.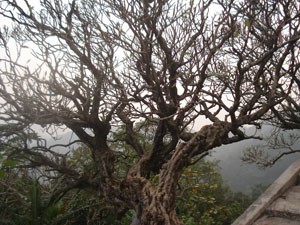 Many of Yen Tu's trees are 700 years old
The mountain, located in Uong Bi District in the northern province of Quang Ninh, is famous for its beautiful landscapes, historical relics and ancient pagodas and towers, earning its name as the Buddhist capital of Dai Viet, Viet Nam's former name.
King Tran Nhan Tong was born in 1258, promoted to Crown Prince at the age of 16 and becoming king when he was 21. Although he wielded supreme power, he wanted to become a Buddhist monk. He read many books and studied Buddhist scriptures, often discussing Zen with Zen masters and practitioners. In 1299, he eventually left the court to become a monastic monk on Mount Yen Tu, later establishing temples, meditation centers, and undertaking Zen missions.
Modern Yen Tu
Before 2002, tourists had to climb the mountain's six-kilometer track on steps made of rock as they wound through bamboo and pine tree forests. Today, however, they have the option of going by cable car, which has been in operation since 2002. The system carries tourists up to Hoa Yen Pagoda, and from there they can walk to visit other landscapes in the region.
In the cool weather of spring, many tourists still prefer to follow the tracks for a leisurely climb to Yen Tu's attractions. All the pagodas and sites here bear legendary stories of King Tran Nhan Tong.
In order to get a real glimpse of the beauty of the pagodas and temples of Yen Tu, tourists should follow the Giai Oan Stream (Vindication Stream), then head to Tung and Truc Streets to the Tower and Hoa Yen Pagoda. From there, make your way to the Mot Mai and Bao Sai Pagodas, and be sure to visit An Ky Sinh Statue and the Dong (Bronze) Pagoda, which is the last stop on the peak of the mountain, 1,068 meters above sea level.
Pining for Piety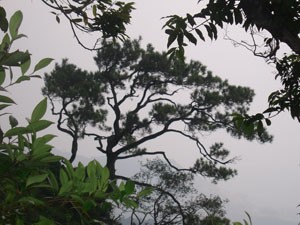 A very old pine tree in Yen Tu
There are three species of pines in Yen Tu: the white thuy tung, the green thanh tung, and the red xich tung. The red wooded pine is the rarest and most precious of species.
To date, there are 274 pine trees in Yen Tu that are around 700 years old. These tall trees are both symbols of immortality and witnesses to the passage of times. Pilgrims often address the trees as "Old Pine" and the roads leading to the pagodas in Yen Tu are referred to as Pine Road.
Mr. Tran Duc Luong, ex-President of Viet Nam, said during a visit to Yen Tu, "The high pine trees and the bamboo forest here is extremely valuable. It can take just a few months to build a big pagoda, but it took about 700 years for the pine trees here to become themselves."
The Yen Tu historical site annually attracts a large number of tourists and pilgrims. Interested travelers can also combine a tour to Yen Tu with a visit to UNESCO Heritage Site Ha Long Bay, also in Quang Ninh Province.