As summer approaches, tourists hear the call of the sea and the sandy beaches. Viet Nam has a coastline more than 3,000 km, providing an excellent location for scuba diving and relaxing.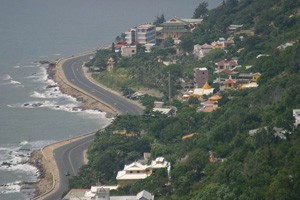 Ha Long road in Vung Tau
For residents of Ho Chi Minh City, Vũng Tàu, 120 km away, is a perfect beach for relaxing.
On April 30 and May 1 holidays this year, Vũng Tàu received 300,000 tourists – a 10 percent increase on last year's holiday period – stretching all the resources of the beach town.
Why is Vung Tau a tourist destination?
During 14th and 15th centuries, the cape where Vũng Tàu is now located was a swamp where European trading ships often visited. The ships' activities inspired the name Vũng Tàu, which means "anchorage". The Portuguese navigators passed Vũng Tàu many times and named it after Saint John. The French called it Cape Saint Jacques. The cliff of Vũng Tàu is now called Mũi Nghinh Phong ("Cape of breeze welcome").
The city is on the tip of a small peninsula. It has traditionally been a significant port, particularly during the period of French rule. Today, the city's importance as a shipping port has diminished, but it still plays a significant role in the offshore oil industry. Crude oil and gas exploitation activities dominate the city's economy.
To most tourists, however, Vũng Tàu is more interesting for its extensive beaches. Tourists prefer sightseeing at Front Beach (Bai Truoc), but tend to go swimming in Back Beach (Bai Sau). Back Beach is well-known for its 10 km of fine sand.
As Vũng Tàu is very near HCMC, it is a favorite resort destination for those who wish to get away from the bustle of life in the city. Vũng Tàu is also home to one of Viet Nam's best known golf courses. From HCMC, one needs two hours to reach Vũng Tàu by the 51A Expressway or an hour and fifteen minutes by the hydrofoil express ferry.
What should be visited in Vung Tau?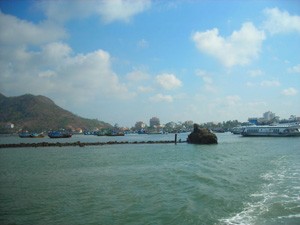 Front beach of Vung Tau
Visiting Vũng Tàu, we should see the notable monument in the city is a large statue of Jesus, constructed on a hilltop by Viet Nam's Catholic minority. It was completed in the early 1970s with the height of 32 m and two outstretched arms spanning 18.4 m.
It is considered to be among the tallest statues of Jesus Christ in Asia. The Thich Ca Phat Dai pagoda and Niet Ban Tinh Xa temple, both Buddhist sites, are also significant, drawing pilgrims from around the country.
Bach Dinh (or the White Villa) is a historical site in Vung Tau beach town and has become a popular tourist attraction for visitors to the seaside city. Visitors to Bach Dinh can also enter a museum with a large number of ancient Chinese ceramics excavated from a shipwreck off the shore of Vung Tau. There are great panoramic views of the city and sea from the balcony on the third floor.
Nui Lon is an important tourist location. A fortress called Phuoc Thang was built here in 1788 during the Nguyen dynasty to control the sea.
In the near future, we will have a chance to see more in Vũng Tàu. A big resort project has just been licensed -- the Saigon Atlantis. Upon completion, this entertainment project, which requires US$300 million in capital investment, will include resorts, shopping, and sailing.
The developer is plans to raise US$4 billion in the investment capital. Two entertainment projects that await licensing are Vũng Tàu Aquarium, which will cost US$250 million, and Bau Trung, a Disneyland-like entertainment park which will cost US$250 million. This project includes Landmark Tower, an 88-story skyscraper to be completed by 2010 by a U.S.-based company, Good Choice Import – Export Investment Inc.
It is likely to be the highest building in Viet Nam. The project is being considered for approval by the provincial government.
Cuisine here is characterized by German beer, Russian cuisine, and fresh seafood, including lobster, crab, and fish.