Sitting in a small thatched cottage in Ho Chi Minh City's Dam Sen Park on a festive day was a young man in a black dress and head-wrap – the traditional costume of Vietnamese teachers until a few decades ago. Despite the obvious merriment from the area meant for food and drinks, the young man, a calligrapher, calmly focused on the movements of his right hand.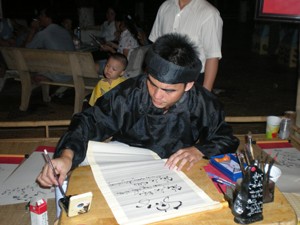 With several simple strokes, Tang can create beautiful calligraphic artworks (Photo: Phuong Lan)
Van Tang, 24, the calligrapher, was born in Thai Binh, a province in the Red River Delta in the north, in a poor farming family. In 2003 he left his hometown for Ho Chi Minh City to study.
He says: "I became interested in calligraphy during the 2004 Lunar New Year (Tet) holidays. At the time, I shared a rented room with two of my classmates who all went back home for Tet. Since I couldn't afford a bus ticket for a trip back to Thai Binh, I had no choice but to stay back alone. That was the first year I was away from my family during Tet and I felt terribly lonely and homesick."
In his room, he recalls, was a calligraphic calendar hanging from a wall printed with strokes that looked like "flying dragons and dancing phoenixes". The more Tang looked at them, the more nostalgic he became. To divert his mind, he took out a piece of paper and a pencil and began to copy the calligraphic words from the calendar. That turned out to be the first decisive step in Tang's journey to becoming a calligrapher.
He spent the next year and more practicing daily to become a recognized calligrapher and another year practicing writing on small, smooth stones.
"Calligraphy, in my opinion, is an art form which requires patience and attention to detail. Maybe, you don't have to be an artist to be good at calligraphy."
There are some gifted calligraphers whose works inspire others to strive for excellence, he says.
His reputation has spread wide and, since 2005, he has been invited by companies to take part in fairs, exhibitions, and festivals where he can create works and sell them to visitors. He has also taken part in charity exhibitions for raising funds for needy and sick children.
His most interesting experience was in 2006 when he was invited to talk about the art of calligraphy to students at a high school in the Phu My Hung urban zone in the city. They were all children of Japanese expatriates working in Viet Nam and didn't know Vietnamese.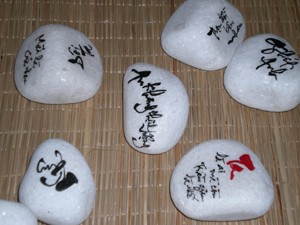 Calligraphy written on pebbles, another of Tang's proud creations
After listening with concentration to their teachers' translation of Tang's explanations, the students gathered around his table, showed him words in Japanese and asked him to write them in the form of calligraphy.
The words were mostly "solidarity", "amicability", "harmony", and "communal spirit". He says he wondered if these words reflected the typical characteristics of the Japanese.
He learnt then that calligraphy was taught in schools in Japan, and also figured out a bit about Japanese culture and education as well as the nature of the people.
Music too
Tang is also gifted in music. When in high school, he composed a few songs even though he had no formal training in music. He usually composed the tunes and wrote the lyrics before passing them on to friends who knew music to help with the orchestration. To his surprise, the songs did not turn out too badly and gave him the encouragement to persevere.
Only in 2003 did he save up enough money to buy a guitar and learn enough music to notate his songs. He has written more than a dozen songs, with some, such as "I love EA H'leo", "Loc Ninh District in my memory"  and "Ditty", even being performed by well-known singers like Thanh Ngoc and Ngo Dinh Long. Long is also a composer and a famous poem chanter in the city.
Despite graduating in 2006 as an engineer in food harvest technology, Tang has decided to follow his calling in the arts.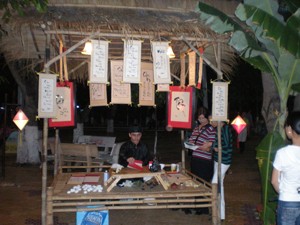 Tang's booth during a recent calligraphy fair at the Dam Sen Cultural Park in HCMC
For him, calligraphy and composition complement each other. Many aspects of one exist in the other and vice versa, and an artist can express himself equally well in both, he says.
A composer can convey his emotions through his tunes and lyrics just as a calligrapher can display his feelings through the artistry and intensity of his brush strokes, he explains.
Tang is now training to set a Vietnamese record for writing the most number of stone calligraphy works. Meant for charity, his goal is to create 500 calligraphic works everyday for 20 days in a row. Good luck to him.