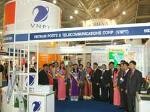 VNPT representatives at ITC Fair.
The state-owned giant Viet Nam Posts & Telecommunications Corporation (VNPT) recently added up its activities and achievements in 2005. Below are top 10 events selected by its Information Center.
1. A pilot project for establishing the P&T Group of Viet Nam was approved by the government. Thus, VNPT will become an economic group involved in posts, IT and telecommunications in domestic and abroad multi-businesses.
2. Various activities have been held in 2005 to celebrate the 60th anniversary the Post & Telecommunications sector (August 15, 1945 - August 15, 2005), among which was a conference to review the past 20 years of renovation.
3. VNPT has comprehensively met its basic targets for 2005 including the expansion of the telephone network to 100% of nationwide communes, a revenue of more than VND 33,000 billion (nearly US$ 2.1 billion).
4. VNPT continually holds its key role in posts, telecommunications and IT field.
5. Besides, a New Global network (NGN) on a nation-wide scale was launched in 2005, proving the technological convergence of telecommunications, IT and communications.
6. The Government has allowed VNPT to apply the billing method of block 30+6 seconds for mobile calls. Together with extraordinarily huge charge reductions, this application has resulted in the mobile market's dynamic development and a warm welcome from customers.
7. VNPT was assigned by the Prime Minister to carry out the project of launching of Viet Nam satellite (VINASAT). As planned, in the second quarter of 2008, VINASAT will be put in the registered static satellite orbit.
8. International co-operations have been expanded and strengthened with many multi and bilateral contacts as well as signed commitments.
9. Also, for the first time, VNPT in 2005 has issued a special postage stamp set entitled "The community of Vietnamese ethnic groups" introducing the whole 54 ethnic groups of Viet Nam.
10. VNPT held successfully its 21st Party Congress and outlined some major development targets to 2010 including a teledensity of 29 lines/100 inhabitants and an average annual revenue growth rate of 10%. VNPT will invest VND 35 trillion in network modernization in the next five years, and the turnover is expected to reach VND 219 trillion.