After the qualification round completed, ten teams from the United States, Vietnam, Poland, Canada, Taiwan (China), Russia and Ukraina will enter the final round of WhiteHat Grand Prix – Global challenge 2015 in December, announced Bkav Corporation yesterday.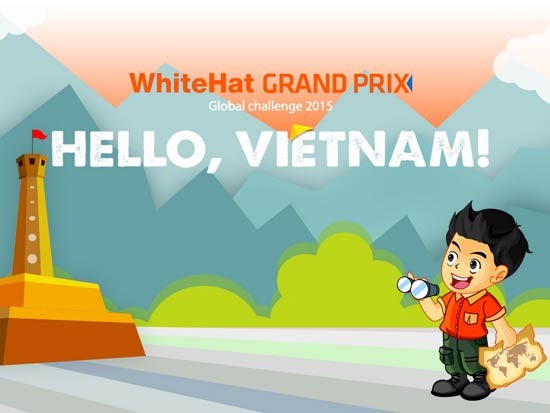 Logo of WhiteHat Grand Prix – Global challenge 2015
WhiteHat Grand Prix – Global challenge 2015 themed "Hello, Vietnam!" consists of the qualification round and final round attracting the participation of 467 teams from 67 countries and territories worldwide with aim to create a meaningful playground for the participants.

After 24-hour online contest, the organizers announced ten teams will compete in the final round in December and six teams were listed on top-ranked teams of CTFTime- a webiste for global cybersecurity contests
Under results, PPP team from Carnegie Mellon University, one of four leading information and technology universities in the United States won the grand prize.
The second prize belonged to Shellphish team from the United States with 5, 295 point. RoadToRome and BabyPhD of Vietnam was ranked Top five.
This is the first time that Vietnam hosted a large scale international cybersecurity contest named WhiteHat Grand Prix 2015.
Ten teams include PPP and Shellphish (the United States); RoadToRome and BabyPhD (Vietnam); Samurai (Canada); 217 (Taiwan-China); Dragon Sector and Snatch The Root (Poland); More Smoked Leet Chicken (Russia); and  Dcua (Ukraina).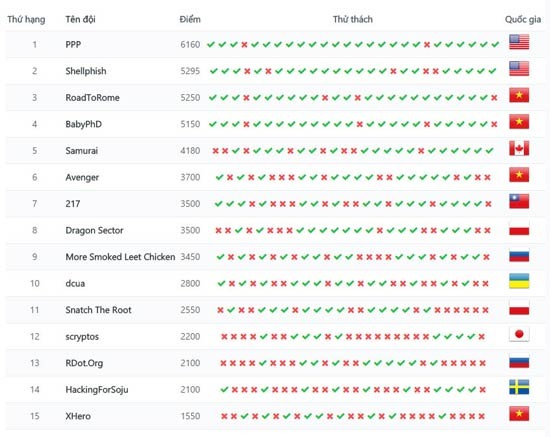 Team names are listed on top-ranked team of CTFTime