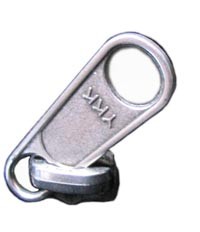 YKK zipper.
The biggest ever quantity of fake YKK zippers (a famous Japanese brand) were destroyed by the authorities in Ha Noi on July 17, 2006.
Those were seized by the Police and market monitoring units. The total number of fake zippers is up to 120,000 pieces, which are 395kg in weight and worth more than US$18,750.
Currently a very big amount of fake YKK zippers, made in China at 1/10 the price of a genuine one, has been imported into Viet Nam, said Ms. Dang Thi Hong Thuy, director of the International D&N Company, legal representative of YKK Corporation in Viet Nam.
More than 260,000 fake YKK zippers have been founded and destroyed in Ha Noi, Ho Chi Minh City and Da Nang since 2001