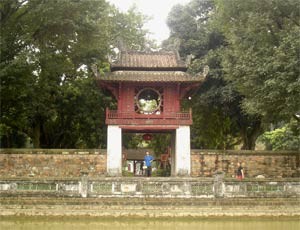 The award ceremony will be held in Van Mieu (Photo:VH)
The 15th Viet Nam IT Olympiad for Students (OLP 2006) officially starts on May 6 at the Ha Noi University of Technology
The OLP has so far been the largest competition for Vietnamese students.
As many as 208 competitors (groups and individuals) and up to 634 batches of students from 66 universities and colleges are expected to take part in the competition, announced the Viet Nam Association for Information Processing (VAIP).
The Ha Noi University of Technology and CMS computer Company jointly provide 300 modern computers in the contest.
The award ceremony and the 15th anniversary of the OLP will be held at Van Mieu (Temple of Literature) on May 8, 2006.