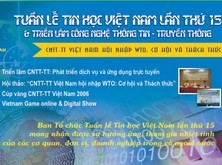 IT Week poster
Viet Nam IT Week, the traditional annual festival for the country's information and technology circle, is scheduled to begin on October 26 at the Viet Nam Fair and Exhibition Center in Ha Noi.
On this occasion the Viet Nam ICT Gold Cup 2006 will be awarded to the individuals, teams and companies judged to have the greatest contributions to the industry this year.
Similar prizes will go to the enterprises, individuals, teams in seven fields: ICT products and solutions widely used, Viet Nam's computer trademarks, packaged software and commercial software, websites, e-commerce, networking services, and IT training in private colleges.
Dozens of seminars, all of them titled "ICT to connecting economies: Opportunities & Challenges", will be held on the first day of the event. At these the discussions will cover e-government, e-city, ICT in foreign investment and international integration, and international training in ICT.