The 2007 "Golden Globe Awards" announced the names of ten winners in a press conference yesterday.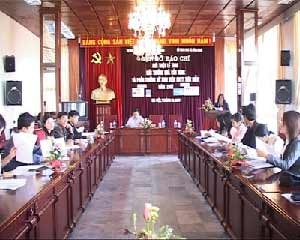 A press conference prior to the award ceremony
The list of winners was dominated by members from the Technology University of Ha Noi National University, including two students, Nguyen Chi Thien and Doan Manh Hung, and lecturer Pham Bao Son of the Faculty of Informatics Technology and researcher Le Huy Binh.
Another student, Nguyen Dinh Tu of the Natural Sciences University of Ho Chi Minh City National University, also won.
In the business field, an entrepreneur working in the US won. Nguyen Minh Tri, Chairman of Board of Director & General Manager of Virtualosity Solution was also honored with an appearance in 2006's list of the 25 Most Outstanding Businessmen in Asia voted by Business Week Magazine, as was Nguyen The Trung, General Manager of the Data Technology Company.
In the computing field were IT staffer Hoang Viet Anh of the Center of Software's Solution and software designer Dang Hoai Phuc, a copywriter for a project building a distance-education network for the blind.
Le Ngoc Tu of the Institute of Informatics Technology under Center of Science and Military Technology also picked up a prize.
The 2007 "Golden Globe Awards" were organized by the Ho Chi Minh Communist Youth Union and the Ministry Science and Technology to encourage and recognize young people working or studying in Information Technology.