3G network, provided by Vietnam's major telecom firms, has made pornography content more accessible for the youth in Vietnam.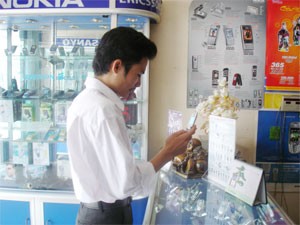 Cell phones have become a convenient device for young people to access porn website via 3G network (Photo: Minh Tri)
Within the last two years, Viettel, Vinaphone and MobiFone services have has covered almost all the country, offering their services to far reaching areas of the nation.
Yet the number of porn videos and images has also appeared more on 3G cell phones during the period, while there few technologies for parents to prevent that like they can do with porn on the Internet.
A mother in District 5 has discovered that the iPhone worth nearly VND20 million (US$960) that she bought for her daughter has been used to link to many "adult" websites.
Many high school students in the city often gather at coffee shop to watch porn videos together downloaded with 3G network from their smart phones.
Some porn websites could not be accessed on the Internet. But it's a yes to everything on via 3G network on smart phones. 
After watching the videos, young people even make their own and post them using the network.
According to psychologists, a part of young people always want to go against standard values of the society.
They prefer breakthroughs and things that are new and different to others'. The 3G network just fits perfectly to that orientation as the children would catch no attention accessing porn websites on their private little devices, the experts said.
The number of young people drawn to the activity has reached more than a thousand, psychologists estimated.