Four exhibitions on process engineering, instrumentation, lab and scientific equipment, and automation opened in only one event in Ho Chi Minh City Sep. 16 with the participation of 133 companies from 20 countries and territories.
The three-day event is held at the Saigon Exhibition and Convention Center in District 7, opening to business visitors only. The organizers are Hong Kong Exhibition Services Ltd. and Vietcham Expo, the exhibition organizing company of the Vietnam Chamber of Commerce and Industry.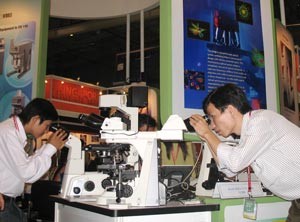 Exhibition visitors examine Nikon lab equipment on Sep. 16 (Photo: Tuong Thuy)
The first three exhibitions are called PIA Vietnam 2009. They are the 2nd international plant and process engineering expo, 2nd international instrumentation, measurement and testing exhibition, 2nd international analysis and laboratory show. The fourth is called Industrial Automation Vietnam 2009.
The event shows international technologies and processes for a wide range of industries from chemical and pharmaceutical to pulp and paper, water and waste, as well as food and beverage.
The exhibitors come from Australia, Austria, China, Dubai, Germany, India, Indonesia, Italy, Japan, Korea, Malaysia, the Netherlands, Singapore, Switzerland, Taiwan, Thailand, the UK, the USA, Venezuela and Vietnam.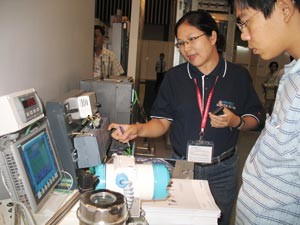 A Siemens staff member (L) introduces a Siemens machine to a visitor on Sep. 16 (Photo: Tuong Thuy)
Mr. Daniel Cheung, director of Hong Kong Exhibition Services Ltd., said 77% of the exhibitors are foreign companies.
Worldwide renowned names in the event include Nikon, Siemens, Toshiba and others.
A series of workshops are to take place during the three exhibition days. They are on gas generators for labs; solutions for petrochemical and chemical industries; applications in food quality and safety; toxicology and farm produce; analyses of toxic micro-quantity in the food industry.
Other topics of the workshops include training in laboratory safety; Toshiba drives for energy saving; and applications in the cement industry.