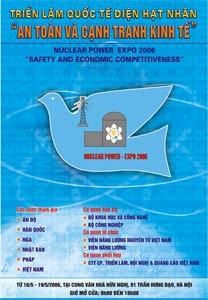 A Poster of the Nuclear Power Expo 2006.
Viet Nam is in demand of 400 experts for its nuclear power program, said Mr. Le Van Hong, deputy director of the Viet Nam Atomic Energy Commission (VAEC) at the press briefing introducing the Nuclear Power Expo 2006 in Hanoi on May 12, 2006.
Mr. Hong said 350 to 400 experts will be required for the program in particular and for the Long-Term Program of Utilization of Atomic Energy for Peace by 2020 in general, which had been approved by the Prime Minister in January, 2006.
They will include 10 to 20 leading experts of atomic energy. In addition, 400 technicians required for the program are expected to be trained locally and overseas.
The Nuclear Power Expo 2006 themed "Safety and Economic Competitiveness" will be the first exhibition focusing on the safety and economic competitiveness of Viet Nam's nuclear power.
The exhibition will take place from May 16 to May 19, 2006 with the attendance of four nuclear superpowers of Republic of Korea, Russian, Japan and France.
Related article:
Applying Nuclear Energy for Peaceful Purposes Strategy to Be Approved