The Department of Information and Communications in Ho Chi Minh City presented the 4th IT Awards to 17 individuals and enterprises at a ceremony in Quang Trung Software City in District 12 on June 2.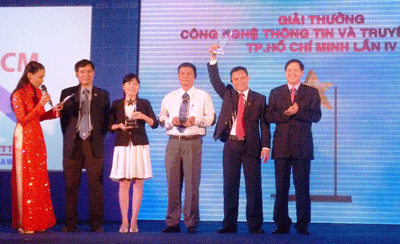 At the ceremony (Photo: T. Han)
This year there were 43 entries which included 35 enterprises and five individuals. In all 17 projects were selected in five categories.
Among them was Misa Mimosa, a product of Misa Company that won in the category of Products and Software Solutions. FPT Information Systems Company too won for its FPT product while the Government Electronic Information Group and the Fast Software Company won for enterprise management of software.
Le Truong Tung, director of FPT University and Tran Thanh Trai, advisor in the IT Department of the Open University were awarded in the individual category for their contribution to the development of IT in the city.
Staff of Intel Vietnam Company, Lac Viet Computer Company and Tuong Minh Service Company were awarded in the team category for similar contribution.
This year the organisers decided to honour five students for the very first time, namely, Tran The Si, Nguyen Van Phuong from the Polytechnic University; Dam Thi My Chau, Doan Duy from the IT University; and Nguyen Ngoc Hien from the Natural Sciences University.
All award winners will be eligible to participate in the city's IT bidding projects in coming years.
 
Nguyen Minh Hong, deputy minister of Information and Communications and Le Manh Ha, deputy chairman of the People's Committee of HCMC attended the event.