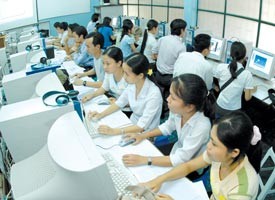 In an IT class.
ICT human resources is one of the most important factors and driving force for the development of IT, e-commerce and e-government, streesed the authorities in many professional conferences.
However, shortage of IT teachers, theory-based training methods and students' bad command of foreign languages are standing in the way of the development of IT human resources.
Appropriate agencies and the Ho Chi Minh City Computer Association have mapped out a strategy to satisfy the demand of IT human resources between 2006 and 2010.
Accordingly, advanced training at universities will be based on certification programs of leading vendors, such as Cisco's CCNA, CCNP, Microsoft's MCSE, MCSA and Sun's Java.
To realize the task, the Department of Posts and Telematics (DPT) will submit for the approval of the city's authority a host of supporting measures, including tuition assistance for graduate students, cooperation between training organizations and recruitment agencies in order to keep training syllabuses up to date.
In addition, the Department is also conducting surveys on IT skill and training demands in the State administrative units to put out appropriate training plans.
The IT Training Center has been running ten training programs to improve the IT human resources, half of which have been well underway and on course to complete as scheduled.
The DPT is expected to establish ICT Training Fund and ICT Training and Research Association in 2006.
This will be seen as the meeting point for organizations and individuals involved in IT training, an information channel for the DPT to direct and adjust development of ICT human resources.
In addition the DPT will be charged with developing human resources for the city from 2006 to 2010. It also is responsible for training IT administrators, ICT project managers, Geographic Information System (GIS) specialists; training 2,000 IT experts for export; and deploying e-government programs for local authorities in districts, agencies, and departments.