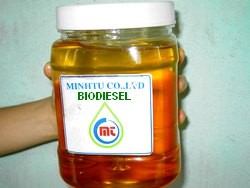 Agifish biodiesel as sold in An Giang Province
After two years of experimentation, the An Giang Fisheries Import & Export Joint Stock Company (Agifish) has produced a viable biodiesel from the oil of the basa catfish.
Now they are waiting for the government's permission to sell the alternative fuel in Ho Chi Minh City.
Two types of biodiesel, B5 and B50, are scheduled to reach the city's Sai Gon Petro filling stations in early November. B5 is a blend of 5% biodiesel and 95% diesel, whereas B50 is half and half.
To manufacture the fuel in commercial quantities, Agifish is building a US$625,000 plant able to produce 30 tons a day in Tien Giang province.
By next year, An Giang province's biggest fisheries company hopes to be extracting 300 tons of oil from the basa catfish every day, and its joint venture with Saigon Petro plans on selling 30 tons of biodiesel a day.
To help the company with the production process, primarily with quality control, the Ho Chi Minh City Department of Science and Technology has sent experts to work with Agifish.
Agifish biodiesel is already widely available in the company's home province and retails at VND7,600 per liter, or VND1,000 less than diesel.