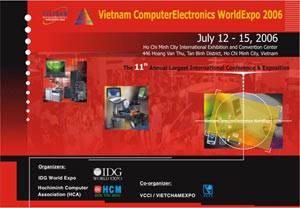 Poster of VCW & VIO 2006.
The annual largest ICT event Vietnam Computer Electronics World Expo 2006 and Vietnam ICT Outlook 2006 (VCW & VIO 2006) will take place in Ho Chi Minh City. It includes a conference and an exhibition, attracting many local and foreign companies.
"As the annual largest event, VCW & VIO 2006 is a place for government officials, policy makers and experts to meet and exchange ICT development experience, while getting information about the latest technologies. It paves the way to promote important ICT inventions and projects. Local enterprises will be able to find out more foreign partners to expand their business and to have more business opportunities at VCW & VIO 2006," said Mr. Le Thanh Tam, General Director of the International Data Group – Viet Nam (IDG Viet Nam).
Many topics will be discussed at the conference, including Strategic Information Technology: How CIOs are re-architecting IT for growth, How to structure people and processes to form a dynamic IT organization, The future of the CIO Role, Documenting business performance: Connecting IT and business value.
The exhibition will feature a comprehensive range of products in the industry of Digital Electronics and Entertainment, the two currently important trends worldwide. So far, the event management board has received participating registrations of more than 180 local and foreign companies from the EU, the US, Singapore, Hong Kong, Malaysia, Japan, Korea, including Sony, Canon, Intel, Hitachi, Fuji Film, etc. Nearly 250,000 visitors are estimated to come to the events, a record so far, added Mr. Tam.
The event will be held by the IDG Viet Nam and the Viet Nam's Chamber of Commerce and Industry (VCCI) from July 11 to 15, 2006.
For more information, visit www.idgvietnam.com.