The Ministry of Science and Technology held a press briefing on February 17, 2006 to introduce "Application of Nuclear Energy for Peaceful Purposes between 2006 and 2020" strategy approved by the Vietnamese Prime Minister.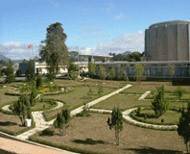 A nuclear reactor in Dalat.
According to the strategy, the application and development of nuclear energy in Viet Nam is for peaceful purposes, and for the development of the national economy and society. Therefore, the Government wants to make sure that the nuclear application and development will be absolutely harmless to the people and the environment. Viet Nam is setting up its nuclear technology industry in order to develop the national economy and society, and also to improve the national scientific and technological potential.
The strategy also states that Viet Nam will finish the construction of the first nuclear power plant in 2020. Simultaneously, Viet Nam will plan good infrastructure for the long-term nuclear power development program.