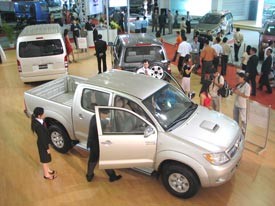 More visitors in the exhibit-area of Toyota at the Vietnam Motor Show 2006. (Photo: T.C)
Today October 27, the 3rd Vietnam Motor Show 2006 opened in Ho Chi Minh City, expecting more than 120,000 visitors with the slogan "Better Life with Automobile" and a total area of 8,500 m2, including 7,000 m2 indoor and 1,500 m2 outdoor.
MotorShow 2006 is the biggest exhibition of automobile industry organized once every two years by the Vietnam Automobile Manufacturer's Association (VAMA), in coordination with the Asia Trade & Business Promotion (ATFA), with the participation of 14 VAMA members, including 12 joint-ventures and 2 domestic automakers, and 23 automobile accessory suppliers.
The show introduces to Viet Nam consumers cutting-edge technologies, safer and more comfortable vehicles along with comprehensive services, in order to bring a better life to the owners. It not only brings international experience and local experience of VAMA members together, but also helps Viet Nam prepare better for the global economic integration.
With the growth rate of the economy constantly over 8%/year during the previous years, Viet Nam's living standard has been improved more comprehensively and its infrastructure has changed considerably. This can be considered an opportunity for Viet Nam automobile manufacturers but also a great challenge in improving technology and quality in order to meet higher requirements of Vietnamese consumers.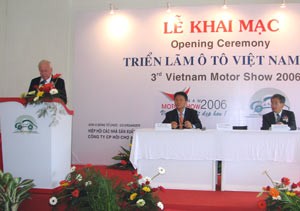 Dr. Udo Loersch, Chairman of VAMA, is glad with the contributions to the development of the country, becoming a part of the national economy. (Photo: T.C)
"Vietnam Motor Show 2006 is an opportunity for manufactures to show our commitment to Vietnam consumers through a wide range of leading products and services and modern technologies, assuring highest convenience and safety and environmental friendliness. The fair is a display of Viet Nam's growth and technological knowledge to the region and the world. We also hope to attract more investment into the country after this show," Dr. Udo Loersch, Chairman of VAMA said.
Since the association was established, the 18 members of VAMA have invested over US$700 million into Viet Nam and created directly and indirectly more than 65,000 jobs nationwide. In the period of 2003-2006 alone, the manufactures contributed over US$1 billlion to the state budget through taxation and provided to the market over 220,000 motor cars.
The fair will run until October 31 in the HCMC International Exhibition & Convention Center (HIECC).
Exhibitor list of Automobile manufacturers:
Vietindo Daihatsu Automotive Corporation (Vindaco)
Ford Vietnam Limited
Vietnam Daewoo Motors Company Limited (Vidamco)
Hino Motors Vietnam Company Limited
Honda Vietnam Company Limited
Isuzu Vietnam Company Limited
Mekong Auto Corporation
Vina Star Motors Corporation (Vinastar)
Mercedes-Benz Vietnam Limited
Saigon Transportation Mechanical Corporation (Samco)
Vietnam Suzuki Corporation
Toyota Motor Vietnam Company Limited (TMV)
Vietnam Motors Corporation (VMC)
Xuan Kien Private Enterprise (Vinaxuki)
Vietnam Daewoo Bus Company Limited (Vidabus)
Related Article:
New GM World Car Model Launched in Viet Nam