This year, the Viet Nam ICT Outlook 2007 (VIO 2007) will run alongside the 12th annual Viet Nam ComputerElectronics World Expo (VCW 2007) in HCMC from July 10 to 15.
VCW & VIO 2007 are premium events in which Government leaders, industrial policy makers and professionals meet together to exchange their views and experiences on ICT development and become up to date with the most advanced technologies.
It is also the bridge for local and international corporations to network and promote new cooperation opportunities.
The most state-of-the-art products and services from local and international market leaders and corporations will be showcased during the event.
"Viet Nam ComputerElectronics World Expo 2007" Exhibition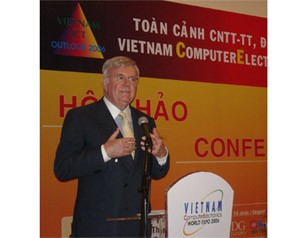 Chairman Patrick J. McGovern of the International Data Group will participate in this year's "Viet Nam ICT- Digital Electronic Outlook" Conference (Photo: HU)
The "Viet Nam Computer Electronics World Expo 2007" exhibition will be held at the Ho Chi Minh International Exhibition And Convention Centre (446 Hoang Van Thu Street, Tan Binh District, Ho Chi Minh City) from July 12 to 15.
The event expects to attract over 250,000 visitors, twenty percent of which will be international delegates.
Many big local and international brands including Canon, VNPT, Sony, Intel, Fuji Film, Samsung, Toshiba, Asus, Gigabyte, Hitachi, LG and Panasonic will join the expo.
This year will feature the participation of more than 300 local, regional and international exhibitors include 40 from North America, 27 from Southeast Asia, 25 from Taiwan, 20 from Hong Kong, 20 from China, 15 from Japan, 8 from the EU, 5 from Korea and more than 100 Vietnamese enterprises.
In addition, the expo will display a wide range of hardware and peripheral devices by Asus, Gigabyte and BenQ, whilst Sony, Samsung and LG will show a series of mobile phones and LCD devices. Joining this year's Expo, AMD will be showing innovative microprocessor technologies in the computing, graphics and consumer electronic markets.
 
The Vietnamese companies include over 10 major companies associated with the assembly of Vietnamese computers, for example FPT Elead, CMS, T&H and Robo. The software pavilion attracts many local software companies including Misa, Centre of Informatics under the University of Natural Sciences and LotusNet.
"Viet Nam ICT- Digital Electronic Outlook 2007" Conference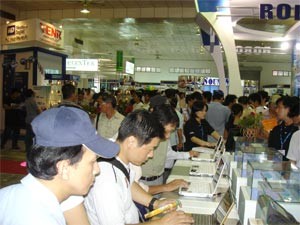 Last year's expo attracted a large number of visitors (Photo: HU)
The "Viet Nam ICT- Digital Electronic Outlook 2007" conference is the place to become up to date on the newest information about ICT development trends in Vietnam and across the world.
The two-day conference includes the participation of 25 local and international speakers who will mainly focus on issues such as impacts of the globalization on Viet Nam's economy and the role of ICT in Vietnam, digital life, ICT solutions for enterprises and ICT investment opportunities.
VIO 2007 will enjoy the participation and support from leaders of Ministry of Post and Telematics, Ho Chi Minh City People's Committee and the Chairman of the International Data Group.
Those interested in the Exhibition can register online at www.vcw.com.vn or get tickets at the event.