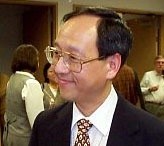 Dr. John Vu
The renowned US-based Boeing Airplane Company held a series of seminars at the Ho Chi Minh City University of Technology on Monday and Tuesday for the benefit of students and software makers
The seminars aimed to help Vietnamese universities achieve international standards of IT and aviation.
The seminars, presided over by Dr. John Vu, chief engineer of Boeing's IT Center, indicated opportunities and challenges for Viet Nam's IT industry on the road to global integration.
The seminars specially stressed the importance of IT education and training, as well as IT development in universities and businesses.  
Dr. Vu confirmed that Boeing was helping Viet Nam become a center of IT development, notably through running CMMI (Capability Maturity Model Integration) training courses.