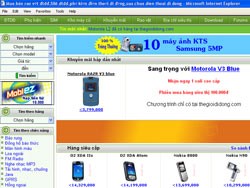 A Vietnamese E-Commerce website (Photo: T.C.)
Currently, the database of 1,900 businesses and 2,500 foreign representative offices have been saved by the Ho Chi Minh City Service of Trade.
With an aim to encourage businesses to use e-commerce, the Service has supported businesses' marketing services by advertising for free their logos, information and company's images at: www.trade.hochiminhcity.gov.vn. Two hundred-fifty enterprises have been already introduced on the website so far. 
In addition, the Service also held the web designing contest "Typical E-Commerce Solution 2005" with three categories: information website, service and trading.
Businesses will be trained how to use tools for analyzing market and how to access the International Trading Center's database by the City's Service of Trade and the Trade Promotion Department under the Ministry of Trade, affirmed Ms. Tran Duc Hanh, Head of the Trade Promotion Office. Sixty enterprises have already taken the courses.
The Service will keep on posting for free businesses' information on its website, according to the E-commerce development plan in 2006.