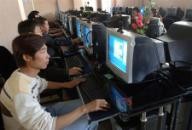 Internet shop in China (Photo: Reuters)
The number of Chinese bloggers is expected to hit 60 million by the end of 2006, Xinhua said, quoting a report on China's media industry by the prestigious Tsinghua University.
China is the world's second-largest Internet market after the United States with more than 110 million users
"The expected 60 million bloggers would account for more than half of China's 110 million netizens," Xinhua quoted Zhang as saying.
The university report forecast the number of bloggers in China would hit 100 million by 2007. Xinhua did not elaborate.
Although the industry has invested heavily in blogs, none of the blog service providers are making profits, the report said.
The growing stable of e-scribes has attracted homegrown firms and foreign giants like Microsoft, Google and Yahoo Inc.