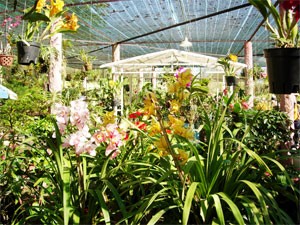 Dozens of flowers grow inside a green house in Da Lat. (Photo: Thuy Hang)
With 50 plant variety laboratories, Da Lat in the central highlands is a leader in producing new plant varieties through tissue transplants and tissue culture.
These varieties are being exported to Japan, Korea, the Netherlands. Scientific terms like plant tissue transplant and cloning are becoming commonplace in and around the City of Flowers, as the highland town is known.
In the north, plant cloning technology is proving to be effective in agriculture and forestry, and for conserving the genes of rare trees.
The technology enables scientists to crossbreed the DR1 rice hybrid, which can bear drought, and to clone many superior potato and sugarcane varieties.
The Institute of Biotechnology, one of the top names in cloning, is responsible for conserving and cloning dozens of plant varieties.
To produce a new kind of diarrhea medicine, the institute is studying the extraction of a secondary active ingredient from a rare tree that only grows in the Hoang Lien Son Range in the northwestern province of Lao Cai.
In October, the Agricultural Genetics Institute (AGI) announced that it had successfully multiplied several flower and tree varieties, and crossbred 18 lily varieties, 10 anthurium varieties of markedly different colors, and more than 15,000 other rare plants.
The technology employed by the AGI has already been used in production.
"Creating cloned plant embryos and artificial seeds, cutting-edge technologies in the world, is being used widely by many local plant variety companies," says AGI's deputy director, Do Nang Vinh.
Farmer can conserve plant cloned embryos for a long time while waiting for a suitable season to plant. More than 200 varieties have been planted so far by using cloned embryo technology, according to scientists.
Besides, artificial seed production using cloning technology can beef up mechanizing and automating the seed industry. For example, 60,000 cloned embryos with a regeneration rate of 47 percent can be produced from one gram of live coffee plant tissue.