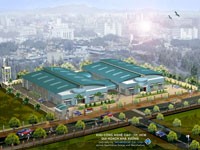 Sai Gon Hi-Tech Park's graphic view.
The Management Board of Sai Gon Hi-Tech Park (SHTP) submitted a planning draft of the "City of Science" in the north east of Ho Chi Minh City to the City People's Committee on May 8.
Building a "City of Science" in Ho Chi Minh City is necessary for local IT professionals to actively, creatively and selectively catch up with the modern world, while extending the development of the Viet Nam National University, Ho Chi Minh City and the SHTP.
The city will provide space for developing a regional training center for innovating, producing hi-tech products and services.
It also completes the technical infrastructure of an ecological, civilized and internationally-standardized city, connecting with the technical infrastructure of Ho Chi Minh City and other main economic zones in the south.
In addition, it creates a special business environment with hi-tech services, network services, internet city, e-commerce and remote services in order to attract local and foreign companies, economic organizations in global trade exchange.
Deputy Chairman of the Ho Chi Minh City People's Committee Nguyen Van Dua has agreed to establish a researching group on building the City of Science.
The city's feasibility study can take up to two years to complete, with the participation of foreign organizations and companies which have experience in planning scientific cities.