Vietnam has a significant source of renewable energies, but fails to exploit the clean energies due to a shortage of detailed legal frame and mechanisms, experts say.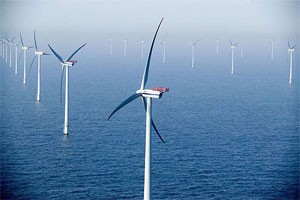 Vietnam has a significant source of renewable energies (Photo: c4ehcm.com)
"Only 1.2 megawatts were generated from wind power at rural areas. There were investors importing 20 wind turbines with an output of 1.5 megawatt for each. They have connected to the national electricity grid since 2009," said Le Tuan Phong, deputy head of the Energy Department, under the Ministry of Industry and Trade.
"Wind power needs supports from the government. Thus, the Ministry of Industry and Trade has submitted a mechanism to develop this renewable energy," Phong noticed.
There were many investment projects on wind power at the central provinces of Ninh Thuan, Binh Dinh and Gia Lai, where have strong winds.
However, the cost remains very high, reaching nearly US 10 cents per kWh. Electricity generated from solar power, meanwhile, costs the most, ranging from 30 to 40 cents per kWh.
The government has set up preferential mechanisms for investment projects on renewable energies, including tax exemptions, low land rentals and price subsidization.
The Ministry of Industry and Trade is setting up plans on developing renewable energies in order to meet the target of generating an amount of electricity from the energies, which will make 5 percent out of the country's output in 2020.
Dr. Hoang Van Huan, vice chairman of the Foreign Investment Business Association, complaint there was a lack of a detailed legal frame for the renewable energy development.
"To meet the 5 percent target in 2020, the Energy Institution has proposed to set up a fund for renewable energy development. The Ministry of Industry and Trade also proposed to train human resources for renewable energy producers," said Nguyen Duc Cuong, Director of the Center for Renewable Energy and Clean Development Mechanism.
Vietnam is one of 14 countries around the world having a potential of hydropower, with more than 120,000 hydropower plants producing the total output of 300 megawatts.
David Jozefy of the Czech-based wind turbine producer KV Venti said researches all showed Vietnam had profuse sources of renewable energy, of which the heat energy can generate 200 megawatts in 2020.
The energy sources can generate a great amount of electricity for a strongly growing Vietnam, said David.
Solar energy in an average of 2,000-2,500 hour per year sunlight can release around 150 kilocalories per square centimeter of heat, which is equal to an annual average output of 44 billion tons of oil. A kilocalorie per square centimeter is 42 million kilograms per square second.
The wind power source of Vietnam is also abundant, with an expected output of around 1,400 kilowatt per hour (kWh) on a square meter in a year at islands.
Statistics, however, show that the amount of electricity produce from the renewable sources remained very low, making only around 2.1 percent of the country's total output. The domestic electricity consumption increased by an average of 17 percent per year, nearly double of the economic growth rate.
The Southeast Asian country is expected to import coal and crude oil to meet the power demand in the next five years. Therefore, renewable energies are the best solutions to curb the issue, analysts said.