This year, Viet Nam's mobile telecom market will develop at 1.5 times faster than 2005, especially with a gigantic development of the code division multiple access (CDMA) technology. In addition, service costs will be reduced for both mobile and landline calls, remarked Posts and Telematics Minister Do Trung Ta in a talk with a reporter of the Sai Gon Giai Phong Newspaper.

Reporter:
What is your forecast for the telecom, especially the mobile telecom in Viet Nam in 2006?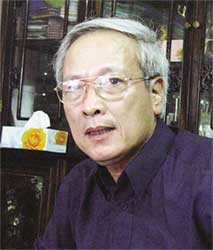 Posts and Telematics Minister Do Trung Ta.
Minister Do Trung Ta: In my opinion, the telecom sector in 2006 will develop stronger than in 2005, particularly in the mobile sector, as it will probably be 1.5 times faster than in 2005. If last year was the "year of Viettel Mobile", this year with the market will see the participation of Hanoi Telecom (092 network) and EVN Telecom (096 network) we will also witness the development and positioning of those networks using CDMA technology. As for S-Fone, I think, its development strategies to expand signal coverage to attract customers are on the right track. 
You mean CDMA system will be a focal point of the Viet Nam mobile telecom market development in 2006?
That's right! When both 096 and 092 networks are in operation and supply services in the first half year, Viet Nam's mobile telecom market will witness a breakthrough of CDMA technology. S-Fone, Ha Noi Telecom and EVN Telecom will surely hasten their networks to 3G generation in order to supply more quality services and have several value added services to draw customers' attention. 
According to the Ministry of Posts and Telematics' forecast, Viet Nam's mobile system will expand to about 7 million new subscribers in 2006. Among them, three GSM networks of VinaPhone, MobiFone and Viettel will attract about 4.5 million subscribers. The rest will be of 3 CDMA networks. S-Fone particularly will get about 1 million new subscribers while Hanoi Telecom and EVN Telecom will attract 1.5 million ones this year. These are impressive figures in comparison with 4.5 million new subscribers of all networks in 2005, among which about 500,000 are CDMA subscribers of S-Fone. 
How about the mobilephone service charges. Will they be reduced and how low will they go?
 
This is still a topical question. Besides the two networks of VinaPhone and MobiFone of VNPT that are stipulated by charge schedules, due to major market shares (over 30% of mobile telecom market shares), the others are entitled to decide new charge rates. As far as I know, companies are planning charge reduction in 2006, in the form of charges based on one second block, in place of 6 seconds at present. However, the Ministry of Posts and Telematics has warned that companies should not reduce the charges to lower than the bottom rate. They will suffer losses if they do and it will be very difficult for them to re-adjust the charges later.  
As for VNPT, two mobile networks will surely reduce their call changes this year. VinaPhone and MobiFone have not reduced their call charges for a long time except for their two-time calculation of charges. Until now, these two networks have invested to upgrade their systems and their millions of customers have been at a disadvantage due to the high calling charges. Therefore, the reduction for these two networks is appropriate at this moment. This, however, will be considered carefully in order not to affect the market as well as the operation of other networks.  
The reduction is not only applied to mobile but also for local landline calls, especially for long distance and international services. Together with the increase of services, the telecom cost will bring more benefits to Vietnamese customers. 
It was said that in the process of negotiation to join WTO, member countries request Viet Nam to open its telecom market. Could you please tell us about the route of opening the telecom market and integrating into international ones?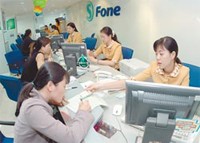 Clients are registering to use S-Fone service.
I can confirm that all foreign companies will be allowed to take part in the telecom market when Viet Nam joins WTO. In fact, Viet Nam's telecom industry has been integrating into the world market but a complete "opening" of the market should be carried out step by step to ensure stability and sustainable development of the market as well as the telecom industry of Viet Nam.  
As far as I know, the Korean S-Fone partner wants to transfer from its current "business cooperation contract" to "joint-venture". International telecom corporations also want to make direct investments in telecom services in Viet Nam. All these things will be realized when Viet Nam enters WTO. 
Thank you so much.