Da Nang city's Investigation Police Office has decided to take proceedings against those involved in the boat capsize on the Han river in Da Nang on the night of June 4, which left three dead.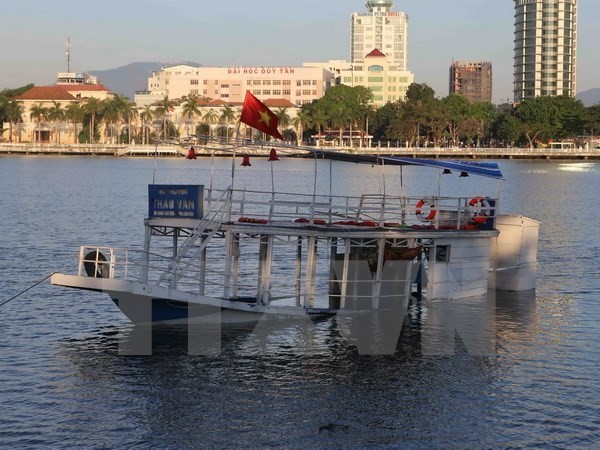 Thao Van 2 boat was brought to Han river bank (Photo: VNA)

Earlier, the Thao Van 2 boat, numbered DNa 0016, carrying 56 people (three crew members and 53 passengers, including four Malaysians) suddenly capsized in the river section between the Han Bridge and Thuan Phuoc Bridge just five minutes after leaving the pier.
Fifty-three people were rescued and three died, the bodies of whom were found on the afternoon of June 5. They were Pham Tan Cuong, 46, from Binh Dinh, two siblings Trinh Kim Phuong, 7, and Trinh Tien Huy, 4, both from Bac Kan province.
Prime Minister Nguyen Xuan Phuc arrived at the scene to lead the rescue efforts. The PM asked to mobilise forces and facilities to work at top speed to search for missing people and minimise the loss of life.
He also visited victims at the Da Nang General Hospital and called for legal action to severely punish relevant organisations and individuals.
The Thao Van 2 boat was captained by Le Cong Chi, residing in An Hai Bac ward, Son Tra District, and is owned by Vo Quoc Hung. The boat's register certificate was issued on May 19, 2016 and will expire on November 20, 2016.
The boat, which has a maximum load of 28 people, had not been licenced to carry passengers and did not report to the local waterway port authorities when leaving the pier.
The boat owner is violation of regulations on operating a passenger boat, and overloading people, are cited as the initial reasons behind the accident.
The Da Nang People's Committee asked the Department of Transport to coordinate with the relevant agencies to suspend the operation of all tourist boats on the Han river to review all safety conditions, especially fishing boats renovated for tourism purposes.
The Department of Transport was asked to strictly examine the pier departure procedures before opening the service again and to recommend specific managerial measures to ensure safety for people and vehicles.
Chairman of the municipal People's Committee will continue issuing documents correcting and increasing check-ups on tourist boats and giving advice on the coordination regulations between sectors in managing local waterway tourism.