Viet Nam's Ministry of Education and Training has added Da Nang University in the list of Vietnamese universities linking with the second generation of the Trans-Eurasia Information Network (TEIN2).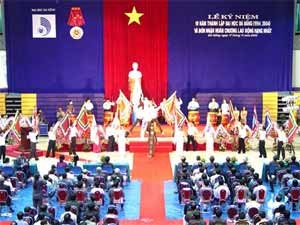 A ceremony at Da Nang University
With the connection, the university in the central city of Da Nang can cooperate with international universities in their Internet-based joint training programs. Da Nang University students and lecturers can join the programs and share online syllabuses.
Therefore, Da Nang University expects to improve many of its activities, especially in training, R&D, and application of scientific progress in the community.
TEIN2 is designed to extend research and education connectivity between Europe and Asia, and within the Asia-Pacific region for the benefit of developing countries in Asia.
Link
TEIN2