Telephone users connecting to landlines will soon have to dial the prefix "3", according to a proposal made by the Viet Nam Posts and Telecommunications Group (VNPT). This additional digit is a response to the increased demand for landlines and will increase available numbers by tenfold, or by about 8 million for each province and city.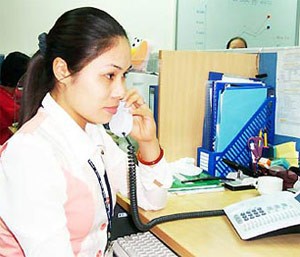 Residents will have to remember new additional digit "3" when making a call since Oct. 19
After a trial period in which VNPT will allow users to connect using either the old numbers or the new ones, users will be required to dial the prefix "3" to reach VNPT's 11 million landline subscribers. The deadline for the change is Oct. 19, much sooner than Nov. 5, the date scheduled earlier. 
However, the change also has some disadvantages.  
The first disadvantage concerns international outgoing calls from the landline numbers of VNPT's partners, Viettel, EVN Telecom, Saigon Postal Corporation, FPT Telecom and Viet Nam Multimedia Corporation.  
Currently, VNPT has no information as to the method that these companies will use to transfer the international outgoing calls of their clients to the telephone exchange of Vietnam Telecom National Co., a subsidiary of VNPT. It is possible there will be a loss of earnings from these calls.  
Another issue involves a land merger in the North. According to a recent directive, Ha Noi will merge with Ha Tay province and Me Linh district in Vinh Phuc province, as well as four communes in Hoa Binh province.  
This merger creates problems because each of these areas currently has its own area code. When users in the merged areas make a call, they have to use the prefix "04", the area code for Ha Noi, instead of their previous codes. Under the new system, they will have to dial "3" immediately after the area code. This creates two new steps for them to follow. 
Another problem is that Ha Tay landline numbers have seven digits while Vinh Phuc and Hoa Binh's only have six digits. This difference makes it harder to unify the landline numbers after the merger and more complicated for users to remember numbers and use them. 
VNPT has proposed a solution for this problem. Ha Tay's users can either dial the old number with the old code, formed as (034)-35xxxxx or try the new one (04)-3-35xxxxx. 
The other merged areas can use the same method as Ha Tay, but they will receive an additional digit for their numbers. Thus, their landline numbers will have eight digits as Ha Tay and Ha Noi. Me Linh residents will be able to dial (0211)-5xxxxx or (04)-3-5-2-xxxxx while Vinh Phuc residents with be able to dial either (0218)-820xxx or (04)-3-9-820xxx and Hoa Binh residents will be able to dial either (0218)-821xxx or (04)-3-9-821xxx.  
After Oct. 19, all the numbers in the merged areas will use the Ha Noi area code, "04".
Related article:

Landline numbers to get additional digit