Thirteen new born tigers are sucessfully reared at the company Pacific Brewery, according to Mr. Ngo Duy Tan, the company director, which owns the facility housing animals in Binh An commune, Di An district, Binh Duong province.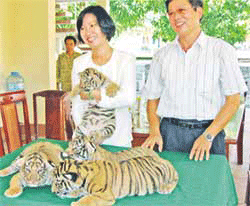 Mr. Ngo Duy Tan and his wife introduce the offspring
Under permission of the provincial authorities, he bought five tigers with their hindleg paralyzed, of which two were female, to treat in 2000. And the first tigress had five cubs in 2004. Unfortunately, they died later.
In the next birth in 2005, his company sucessfully bred five other baby tigers and 8 cubs born in July and August 2006 are now growing quickly.
Up to now, there are 18 tigers, including 13 living baby tigers among 23 delivered at the company. Every cub has been given birth certificates by the Forest Management Department of Binh Duong province. The Pacific Brewery expects to work with zoo-gardens to develop the pack of tigers to 100.