Busy at work: Nguyen Hoai Nam, technology manager of Glass Egg Digital Media
Forza Motorsport is a stylish and challenging game from Microsoft and is one of the best racers on the Xbox, according to Gamespot Magazine.
With more than 230 fancy cars of 60 makes, the game has proved a big hit with racing fans right from its debut.
What few of the players realize is that 70 percent of the cars were designed by the Vietnamese company Glass Egg Digital Media, which had previously generated car models for the top-selling games Colin McRae: Dirt and Sega Rally Revo.
The head of Glass Egg's design team and the firm's technology manager is Nguyen Hoai Nam, who was named one of the top game developers in 2002 by the magazine Pixel Creation.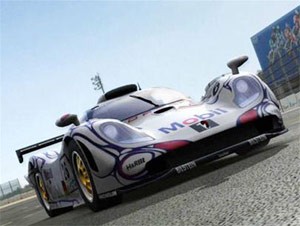 A Forza Motorsport car designed by Glass Egg
Most games in the world are designed with Autodesk 3ds Max software, so anyone who manages to develop their own tools for the software has an edge over the competition.
Hoai Nam has done just this, creating many robust and effective tools for the benefit of Glass Egg's 109 designers.
These tools let the designers maximize their productivity and also distinguish Glass Egg from other game developers in Asia, so much so that Glass Egg can boast such giants as Sony, Microsoft and Electronic Arts among its customers.
Nam's favorite tool is Copy Transformation, which enables the artists to apply a movement in many different characters, speeding up their work significantly.
Ten years ago, Nguyen Hoai Nam was a senior student of the Ho Chi Minh City University of Technology. One day, Phil Tran, an expatriate Vietnamese who is now director of Glass Egg, came to the university and invited Nam to join his 2D game development team.
The offer was too tempting to ignore so Nam decided to drop out of university. "After that I was chatting online with Nam for a good part of the day. Now we are like brothers; I admire him very much," Phil Tran said.
"In a way I still regret dropping out of university. It made my parents so sad. So I have to work harder to prove my ability," said the 33-year-old technology manager.  
At present, Nguyen Hoai Nam and his colleagues are designing cars for Forza Motorsport 2.