A specialist conference will be held on August 28 for domestic companies that intend or are trying to expand their business via the Internet, HCM City-based BOM Informatics Corp. announced August 25.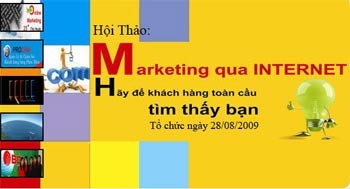 A conference, "Marketing via internet," on August 28 will give local businesses more information about Internet commerce (Photo: Courtesy of BOM Informatics)
The conference, with the slogan "Hay de khach hang tim thay ban" (Help customers find you), features various topics, including appropriate sources of information about potential customers in America, Japan, Europe and the Middle East; general information about search engine marketing; virtual and affiliate marketing; and methods to analyze the effects of Internet marketing strategies.  
With a recent figure of 1.5 billion Internet users worldwide published by Internet World, 21.5 million of them in Vietnam published by Vietnam Internet Network Information Center, BOM believes that the Internet is one of the most useful tools for businesses to not only promote their business to potential customers, but also to understand customers' needs.  
The conference is part of the roadshow "Applied I.T for business management."  
The conference will start at 8.30am at the Ho Chi Minh Development Learning Center (District 3). 
Entrance is US$50 per person.