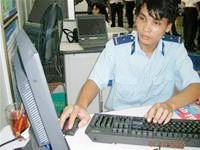 E-customs is acclaimed by the business community. (Photo: Viet Nam Net)
Currently, the General Department of Viet Nam Customs (GDVC) is finalizing its operational model to officially start the e-customs clearance on September 10, 2006.
After 8 trial months at the Hai Phong and Ho Chi Minh City Customs Department, the GDVC came to a conclusion that e-customs clearance is initially successful and acclaimed by business community. The time for custom procedure is significantly reduced from 7-8 hours to 2-3 minutes.
The number of businesses choosing the e-customs surged up to 81, an increase of 56 from December, 2005 to June, 2006, according to the Ho Chi Minh City Customs Department. Sixty four out of 81 enterprises (nearly 79 percent) regularly made custom declaration electronically.
At the Hai Phong Customs Department, the number of businesses choosing e-customs rose to 74, a raise of 54 from December, 2005 to June, 2006.
Besides improving the infrastructure, the GDVC is also urgently bulding a decree on e-customs procedure as the legal foundation. For its long-term target, the GDVC plans to turn its e-customs project into a part of the government's e-commerce projects.