Leading IT experts and officials spoke to SGGP in an online chat Tuesday about their experiences in the battle between black-cap hackers and securities staff, and other web-based security issues.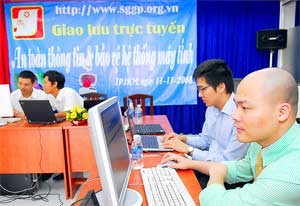 BKIS's Director Nguyen Tu Quang (Blue shirt) answers question via messenger and email at SGGP office (Photo: SGGP)
The experts' line up was: Nguyen Tu Quang, director of the Bach Khoa Internet Securities Center; Truong Hoai Trang, Vice Director of FPT Telecom; and Ho Phuoc Thuan, Vice director of Vietnam Data Communication Center 2. 
Q: There have been a lot of attacks by black-cap hackers for a few years now, but most of them have been arrested later. So, how can securities companies locate them? 

Quang: When a hacker carries out an illegal behavior the on internet, it is possible that some traces of it are left at the place. Some hackers believe that it is very difficult to find them because they are far away, but an analysis of the traces reveals the location.  
Q: What are the roles of the Internet service providers (ISPs) in Vietnam, such as Vietnam Data Communication Center and FPT, in the investigation against the hackers?
Thuan: Our responsibility is to help the governmental officials to find out hackers who have launched online attacks on the databases of our clients. Since the beginning, we have co-operated with the governmental departments closely to ensure network security for all our clients; smooth transfer of data via the internet; and prevention of attacks by hackers. 
Q: For those who chose domestic servers or hire hosts from domestic hosting provider, would the provider offer any help if hackers carried out some attacks on their websites and databases? If yes, what kind of support?
Thuan: First of all, we provide our clients some software and even hardware to prevent or detect the attacks. In addition, we have staff work 24/24 to detect any mistakes or attacks on our clients. If any wrong happens to any part of the website or database, we would promptly analyze it and suspend work at that part and ban all the connections from this part to the others.  
In preventing the attacks, besides carrying out checks on the network security, we usually recommend our clients to continuously upgrade security for their database to prevent damage caused by the potentially dangerous gaps in the open source.   
Q: If any white-cap hacker successfully hacks a website's database, finds out something wrong and later posts a warning on the home page of the website? Would that be illegal behavior?

Quang: Yes, it is an illegal behavior since that action changes the information system and even structure, not only for the home page, but also for whole website. So it is illegal to do that without permission of the webmaster. We highly recommended to these hackers that they report the wrongs to the webmaster via email or phone or fax instead of posting the warnings on the website. 
Q: What if an ISP employee reveals information about clients to hackers or launches an attack himself? How can we prevent this?
Trang: According to regulations of the Ministry of Science and Technology, the ISPs are only allowed to collect some basic information about their clients, including home address, identify card number (or number of family record book) and contact phone number. In my opinion, this information is not very sensitive since our clients would have to give out such information in transactions with their partners.  
As for information transferred via the local area network in a enterprise, we must not reveal any of it; it would contravene the post and telecommunications law. Moreover, I believe that our staff can hardly remember all the information transferred on the network per day since it's so huge.  
In addition, every ISP has its own operating process with different steps. Most ISP network systems always save all the LOG details of their staff so it would be easy to find out whether anyone engages in illegal behavior.  
Q: What is the recommended solution to prevent internal information of enterprises from being leaked out?
Quang: The role of the webmasters and administrators is so important. When installing an internal database, these people must use both software and hardware to set up security walls that keep information safe. During the operation, the staff must update patches to fix the gaps, detect and freeze the operation of some existing ones.  
We highly recommend that the enterprises apply the ISO 2007 standard, the international standard for network securities. The ISO requires the enterprises to list, analyze all potential problems to their database system, and later to suggest some solutions for these.  
Q: We are trying credit cards now. But we are quite worried about the security of online transactions. What is your advice?
Thuan: First of all, you must make sure that you successfully connect to the website you want to carry out transactions. Secondly, do not choose the "autosave" function from the website for most sensitive personal information. Thirdly, save no transaction information or any other sensitive information on your laptop or private desktop. The last one is: do not provide information related to your credit card to anyone you do not know clearly.
Related articles:
Student hacker to receive administrative punishment
Website of Internet Securities Center Down for a Day; Hacker Suspicions Rejected
Old Version of Joomla Vulnerable to Hacking, Security Center Warns
Hackers Hit 2000 Vietnamese Websites