Ethanol fuel, which was introduced to local consumers in Vietnam last year, is considered as an appropriate replacement for common gasoline as oil and coal mines are gradually being depleted.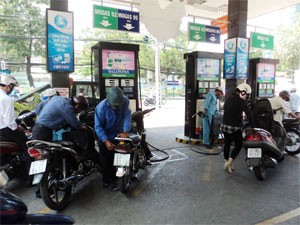 People park at a gas station in HCMC for refill. Ethanol fuel was introduced to Vietnamese consumers last year (Photo:Minh Tri)
The new fuel, also known as gasohol E5, comprised of 5 percent ethanol and 95 percent A92 fuel and partly made from ethanol (ethyl alcohol) is a new fuel which is said to save energy, better protect engines, reduce environmental pollution.
Among the first ethanol fuel producers, Dong Xanh Joint Stock Company has built the ethanol plant Dai Tan with an investment of VND600 billion (US$30 million) in the central province of Quang Nam.
Dai Tan's annual output amounts to 100,000 tons, an equivalent of 125 million liters per year.
"There are 40 gas stations offering gasohol E5 nationwide. We are study on producing gasohol E10, which comprises of 10 percent ethanol," said Dong Xanh chairman Luu Quang Thai.
"Ethanol fuel is cheaper than other kinds of gas by several hundred dongs a liter. According to my calculation, daily sales of 16 million liters of gasohol E10 helps save VND16 billion ($800,000).
"In addition, cassava refuse left from the ethanol fuel production will be used as bio-fertilizer, which can be offered to cassava farmers at low prices. [Dried cassava is the main material of ethanol production]"
However, experts say sales of ethanol fuel are low compared to other kinds of gasoline's as local consumers remain cautious about the new fuel. Just a few of companies can afford bio-fuel production, which requires huge investments.
Experts are also concerned on the supply of materials for ethanol fuel plants as flour plants also need cassava.
Thai notices that cassava price was volatile on strong buying from plants and traders. "If the cassava supply from the central and highland regions is unstable, we will import materials," he said.
Petroleum product importers will be asked to add ethanol (ethyl alcohol) into their fuel, starting next year, according to a project to make bio-fuel use compulsory in Vietnam.

The measure is currently being drafted by the Ministry of Industry and Trade. Vietnam's Prime Minister approved a project to develop bio-fuel here in 2007.

PV Oil and Petec, both subsidiaries of Vietnam National Oil and Gas Group (PetroVietnam), currently sell gasohol E5 (five percent ethanol and 95 percent of A92 fuel) at 38 stations across the country.