A recent conference, "An toan thong tin trong hoat dong truyen thong" (Security in the media), alerted Internet users to the dangers of unprotected wireless networks and computers.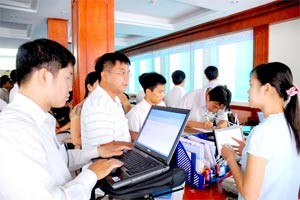 Guests using free wireless Internet at a trading floor (Photo: SGGP)
At the conference, Mr. Vo Do Thang, director of Athena Training and Education Network, highlighted the problems by using his computer to log into and steal usernames and passwords of two nearby laptops.
According to Mr. Thang, black-cap hackers find it easy to crack firewalls, find usernames and passwords to log onto shared folders in other computers, both desktop and laptop, with the same connection to unprotected wireless networks.
Another concern highlighted, is the number of cases of cracked software, which can help hackers from learning how to start cracking to becoming professional.
Some personal details favored by the hackers are usernames and passwords, email accounts, internet messenger accounts and online game accounts.
Mr. Phung Hai, who heads the Network and System Security Department (NSSD) at the Vietnam Information Security Association, believed that the risk of bugged internet phone calls or voice-chat is very high for those who connect to none-password protected wifi.
"By setting up a fake wireless access point (AP) with the same information as the real wireless access point nearby, the hackers also choose to allow all connections to connect to their fake network without passwords.
"Another trick by the hackers is their fake networks always show better connection signals and higher-speed connections than the real ones. As a result, most internet users are confused and choose the fake one. Once the fake AP receives the connection from the other users, the hackers easily log onto the administrator account of the users' computers and steal personal details saved in the computers," Mr. Hai explained.
The NSSD head also warned users about unsafe websites.
The hackers can save black codes or create worms and spyware on their websites. Every time Internet users connect to these websites, all these malicious programs will attack the computer's system and change the administrator.
After the attack, the hackers can control most actions on the infected computers, including using webcams and microphones, recording all the phones or voice-chats, changing the content from chat and emails, and steal personal information.
Recently, many Vietnamese internet users, while using wifi in public places, were attacked by hackers.
All their information, including business contracts, tender plans, business strategies and contents of private chats, were shared on the Internet.
Since "once the information being stolen, it cannot be stolen back," Mr. Thang urged internet users to better protect their computers, including installing security software with web filters, setting passwords for shared folders and saving private information into other folder, but not shared folders.
"Users must understand the high risk of connecting onto free wireless networks in public places. If not really necessary, the users should not log onto their email and messenger accounts in public places.
"They should not connect to unknown websites or pop-ups appearing when surfing the internet. A smart action to protect the computer is by installing and regularly updating anti-virus software." Mr. Thang said.
"At the first symptom of being attacked by hackers, if the users do not understand the problem, they should ask for help from IT professionals," he added.
As for security while using the Internet in public places, Mr. Nguyen Thanh Nam, director of Blue Moon Consulting, shared his experience: "First of all, Internet users should use the Internet in public only when necessary. In case of sending emails via the free Internet, all content should be compressed into a zip file with a password required for unzipping. Later, the sender should send the password to the relevant receiver via other methods, like SMS or phone."
In addition, Mr. Nam recommended users to frequently change passwords for some private accounts and not to trust anyone on the Internet.