At the European Parliament in Brussels yesterday, Viet Nam received the 2006 Energy Globe Award for its development of biogases as an alternative energy source .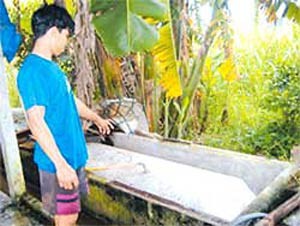 Biogas converters are popular in rural areas
The prestigious award, presented by the United Nations and leading European energy organizations, is conferred on organizations that have made outstanding contributions to the development of sustainable energy solutions.
 
The "Biogas Program for Animal Husbandry Sector" started in 2003 with the cooperation of the Vietnamese and Dutch governments.
 
The program is run by the Biogas Project Division under the Ministry of Agriculture and Rural Development (MARD) with technical assistance from the Netherlands Development Organization SNV. Funding for the project comes from provincial governments and private individuals taking part in the project as well as donations from the Dutch Cooperation and Development Agency. 
 
The program aims at developing a commercially viable and market-oriented biogas industry while at the same time developing a cleaner alternative to the use of fossil fuels.
During the first phase (2003-2005) of the project, about 18,000 biogas converters were built throughout Viet Nam. Project organizers aim to increase that number to 150,000 by 2010. 
The program has helped to improve the living conditions of rural inhabitants by offering a clean energy and lowering their energy bills. 
 
Health improvements include a reduction of indoor air pollution and foul odors and improved latrine and stable facilities. The use of biogas also frees women and children from the burden of collecting firewood which, in turn, reduces deforestation.
 
The program has been lauded for its contribution to the national strategy for environmental protection by encouraging households to use effective energy technology and improving the efficiency of rural waste-treating systems.
According to Mr Hoang Kim Giao, Deputy Head of the Animal Husbandry Department under the MARD, any family that has two cows, buffaloes or four pigs can build a biogas converter at a cost of Eur200-350.
Biogas typically refers to the gas produced by the anaerobic digestion or fermentation of organic matter including manure, sewage sludge, municipal solid waste, biodegradable waste or any other biodegradable feedstock, under anaerobic conditions.

The gas is comprised primarily of methane and carbon dioxide and can be used as fuel for vehicles or for generating electricity. It can also be burned directly for cooking, heating, lighting, heating and absorption refrigeration.