The first oil truck for the US$2.5 billion Dung Quat refinery under construction in central Viet Nam's Quang Ngai province is due to transport crude oil today, one step towards putting the whole plant on stream by February next year.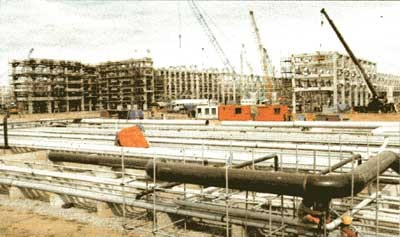 Pipes being installed for Dung Quat Oil Refinery project
The 18 cu.m-capacity truck has been checked for safety and will start loading and offloading DO oil to Reservoir No 1 until 5,000 tons are filled, after which other categories pertaining to this mega project will be operated on a trial basis, contractors said.
Next month, a pressure system will be used to pump out dregs and other obstructions to pipes while the whole plant - the first oil refinery in Viet Nam - is to be put on trial run in December. It is expected to churn out 6.5 million tons of refined oil and liquefied gas from February 2009 - equivalent to a third of the country's needs.
Early this month, a US$93.75 million breakwater dike designed to facilitate waterway traffic at the refinery's harbor was completed, 5 months ahead of schedule.
Meanwhile, a second $6 billion oil refinery, the Nghi Son Refinery in Thanh Hoa province in the north, kicked off this month.
To be operational by 2013, its annual output is targeted at up to 10 million tons.