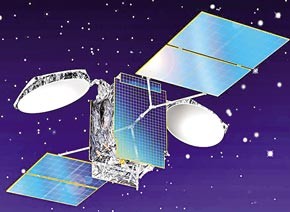 A graphic view of Vinasat-1 in orbit
Viet Nam's first satellite has begun operations and manufacturer Lockheed Martin has transferred the control of Vinasat-1 to the Viet Nam Post and Telecommunications Group, according to VNPT.
The group says it plans to start services from exploring the satellite, which was launched into space on April 19.
During the three following weeks, experts of Lockheed Martin and VNPT worked together to ensure smooth operation of Vinasat-1. On May 19, Vinasat was put at 132 degrees east, the position that Viet Nam had registered.
Vinasat-1 has a minimum service life of 15 years, according to Lockheed Martin.