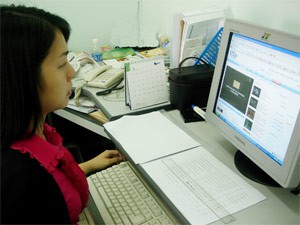 Enjoying video clips on Clip (Photo: Hoang Uy)
Similar to the renowned video-sharing website YouTube, Clip.vn enables users to view and share original videos on the Internet. It offers good quality video encoding while simultaneously reducing file sizes.

The website is currently running on a free trial basis but promises to become the most popular website of its kind in the country.
The interface is simple and user-friendly with features like video embedding, comment insertion and search functions working smoothly.
Of particular interest to users is the "MyTV" feature, which allows users to create their own page within the site to store uploaded video clips and generate link lists connected to their favorites.    
"We are waiting for user's responses so that we can unveil the official version of the first personal video sharing website in Viet Nam" said Nguyen Van Tung, who is heading up the project.
Clip's Director, Le Huu Son, believes the website's upload and download speeds are considerably faster than similar sites in other countries. "As opposed to foreign websites, which may take hours to upload a video clip, Clip takes less than 3 seconds to view and only 10-20 minutes to upload a 100 MB clip" he said proudly.
Today, while blogging enjoys widespread popularity nationwide, online video sharing is rapidly bringing up the rear in Viet Nam. Clip's developers hope that the site will soon become the most favorite place for young surfers.