The Management Board of the Sai Gon Hi-Tech Park (SHTP) met with the representatives of Hewlett Packard Incorporation (HP) in the office of the People's Council on March 23, 2006.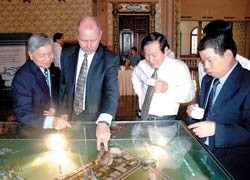 Mr. Wolfgang Zenger (second from left) in the meeting
So far the SHTP has attracted 17 foreign investors with a commitment to invest over US$700 million. Mr. Nguyen Thien Nhan, Vice Chairman of the Ho Chi Minh City People's Committee, also discussed with the investors on policies for attracting and encouraging foreign investments and training human resources.
He also promised to help HP do business in Viet Nam. Mr. Wolfgang Zenger, Senior Vice President of Hewlett-Packard's Global Procurement Services (GPS) Organization, on behalf of HP, was very impressed that SHTP has attracted many big investors, including Nidec and Intel.
Especially, he advices foreign investors to invest in Viet Nam for its possession of a young and industrious labor force and a huge market potential. "Viet Nam is turning into a tiger in Eastern Asia," said Mr. Wolfgang Zenger.

Related article:

Ho Chi Minh City Approves Saigon High-Tech Park Project