A fossil century-old tree stump has been discovered in the central province of Quang Nam.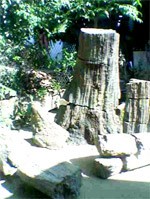 The fossil tree discovered in Quang Nam
The tree consists of three chunks, with a diameter of 1 meter and a height of over 1.6 meters with roots, branches and twisted knots. Its bark looks like that of pine tree. The cut plane of the tree stump has veins of brown, white and yellow colors.
Its owner is Mr. Vo Van Bay, who lived in Duy Chau commune, Duy Xuyen district, Quang Nam Province.
According to the local people, a lot of the fossil trees like this were found here. Scientists have not been able to identify the origin and date of the fossil tree stump but rumors have raised its price considerably.