Fifteen years since the Internet was first introduced in Vietnam, the number of subscribers has reached four million with about 31 million people using the Internet for various purposes.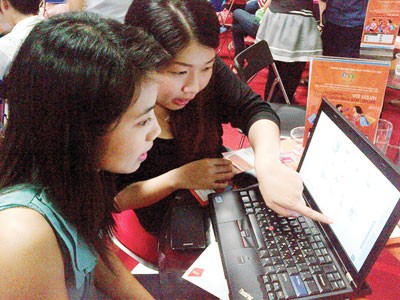 Internet has become a popular mode of communication in Vietnam (Photo: SGGP)
This was announced at a ceremony hosted by Vietnam Internet Association in Hanoi on December 1 to celebrate the 15th anniversary of the Internet service in Vietnam.
At the ceremony, Le Nam Thang, deputy minister of Information and Communications, said that 15 years ago the Internet was first introduced in Vietnam with the first emailing system established by a group of scientists from the Institute of Information Technology and the Vietnamese domain being officially registered worldwide.
Vietnam officially connected with the global Internet network on November 19, 1997.
Vietnam ranks 18th among 20 countries with the most number of Internet users in the world, while in Asia it ranks eighth and in Southeast Asia it stands at third place.
At present the number of Internet users in Vietnam has increased 15 times compared to that in 2000.