The Vietnamese FPT Distribution Company (FDC) becomes the second official distributor for Cisco Systems in Viet Nam, after Ingram Micro Corporation, which is in charge of the whole Asian distribution channels.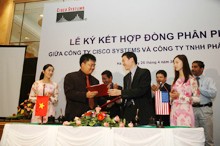 Cisco Systems Inc. chooses FPT as its second official distributor in Viet Nam.
The news was announced by US-based Cisco Systems Inc. in Ho Chi Minh City on May 5. Cisco was founded in 1984, and is the leading supplier of networking equipment, solutions and management software in the world.
FPT, therefore, is the first Vietnamese company acting as an official distributor of Cisco's products.
FPT is chosen as Cisco's distributor for its 10-year experience in distributing information technology equipments through over 800 agents in 51 among total 64 provinces in the country, director general of Cisco's subsidiary in Viet Nam, James Chia said.
Vietnamese customers will not only be supplied with highly qualified genuine products but also services such as consultation, installation and after-sale support.