Deutsche Welle (DW) launched its new channel, DW-TV Asia+ in Vietnam, on March 10 on seven local carriers, with more interesting and longer English language programs, DW's spokesperson Debbie Lee announced at a press conference at Park Hyatt Saigon, District 1 March 11.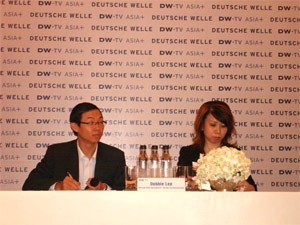 Debbie Lee taking questions from the media at a press conference March 11 (Photo: Truong Son)
The seven carriers are: Vietnam Cable Television (VCTV), Vietnam Multimedia Corporation (VTC), Ha Noi Cable TV (HCTV), Ho Chi Minh City Television (HTV), Saigon Tourist Cable TV (SCTV), Vietnam Posts and Telecommunications Group (VNPT) and FPT.
The new channel, DW-TV ASIA+ will offer a 24 hour a day schedule, of which 18 hours of programming will be in English and six hours in German. The new channel offers a mix of European lifestyle, culture and the arts, as well as in-depth reports from business and politics.
For viewers looking for more programming in German, they can still watch DDW-TV ASIA, with its usual offering of 16 hours of German programming and eight hours of English. This is especially targeted to viewers from German-speaking countries living abroad, or to those interested in learning German.
The channels will showcase programs like 'Euromaxx,' a daily lifestyle magazine showing the sparkling facets of European living and glamour and 'Drive it!' that keeps viewers in touch with the latest auto news from Germany and the rest of Europe.
For the best seat in the house on European and International cultural scenes catch 'Arts.21' and shape up with 'In Good Shape' for tips on maintaining a healthy lifestyle.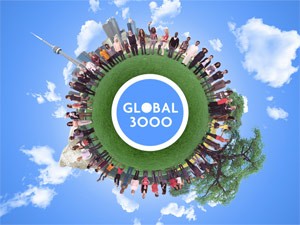 Global 3000 will greet Vietnamese viewers in middle of March (Photo: Courtesy of Deutsche Welle)
In addition, there are 'GLOBAL 3000,' which investigates the risks and opportunities of globalization and 'In Focus' that offers documentaries covering a wide range of topics.
The highlight of the March will be the 'Devil Wears Schumacher – The Global Success of Fashion from Mannheim' for 'In Focus' on March 17. It tells the fairy-tale like story of a mother of four, Dorothee Schumacher, who started her business with three T-shirts and later designed clothes. Now, Schumacher runs a successful fashion house in Mannheim.
Another highlight is 'The Media Revolution on the Web – Of Bloggers and Podcasters,' also on In Focus March 20.
Deutsche Welle is Germany's international broadcaster. With DW-TV, DW-RADIO and DW-WORLD.DE, it produces news, background information and cultural highlights worldwide, while creating a platform for intercultural dialogue.
It is targeted to people around the world who are interested in Germany and Europe, particularly to current and future opinion leaders and decision makers.
It first went on air May 3, 1953.