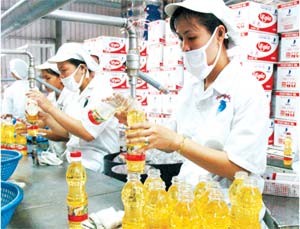 Labeling vegetable oil bottles at the Nakydaco company.
Sitting in his office in downtown of Ho Chi Minh City, Do Ngoc Khai, CEO of the National Company for Vegetable Oils, Aromas and Cosmetics of Vietnam (Vocarimex), is watching the construction of his factory in the city's outskirt via his laptop.
Later, he switches his focus on the Tan Binh Vegetable Oil Joint Stock Company (Nakydaco), a Vocarimex's subsidiary company. On the screen, employees are working on automatic assembly lines.
Thanks to the GIS (geographic information system) technology, he can supervise what is happening in his factory and subsidiary companies anywhere and anytime.
As a CEO of a giant company in vegetable oils, aromas and cosmetics, Mr.Khai is, by now, working on many big projects of Vocarimex, while managing dozens of cooperation projects on producing cooking oil in Golden Hope and Cai Lan factories and LG cosmetics.
He also has to ensure that the business at the Nakydaco is running well, keep the good relationships among joint-venture companies of Vocarimex, deal with the loss at some joint-ventures, take part in management board meetings at joint-ventures abroad and conduct key investment projects.
By applying IT in management, Mr.Khai easily deals with such workload.
So far, the market demand, factory production, financial situation, marketing department's suggestions and so on are reported to the Management Board everyday, using IT applications.
The Vocarimex's CEO confirms the importance of IT application in management. It helps directors closely control their business without spending a lot of time attending meetings.

A geographic information system (GIS) is a system for creating, storing, analyzing and managing spatial data and associated attributes. In the strictest sense, it is a computer system capable of integrating, storing, editing, analyzing, sharing, and displaying geographically-referenced information.
In a more generic sense, GIS is a tool that allows users to create interactive queries (user created searches), analyze the spatial information, and edit data. Geographic information science is the science underlying the applications and systems, taught as a degree program by several universities.
Geographic information system technology can be used for scientific investigations, resource management, asset management, Environmental Impact Assessment, Urban planning, cartography, and route planning.