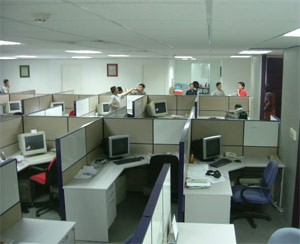 Based on a rise in professional computer needs in offices like the one picture here, combating software piracy becomes increasingly important. (Photo: Hoang Uy)
The Vietnamese government is collaborating with the Business Software Alliance (BSA) to combat local software piracy.
According to BSA, if the rate of software copyright infringement in Viet Nam drops down to 82 percent by 2009 (the rate was at 94 percent  in 2005), the government could generate more than US$43 million from taxes, while the local software industry stands to gain upwards of US$726 million in profit.

Furthermore, such a decrease would create over 4,000 jobs in the national software industry. 
Established in 1988, BSA has programs in more than 80 countries dedicated to a safe and legal digital world by acting as a voice for the software industry. BSA works with various national governments to negotiate the terms of software distribution and to combat software piracy.

Additionally, BSA works to educate consumers on software management, copyright protection, cyber security, trade, e-commerce, and other Internet-related issues.
At a press briefing yesterday in Ha Noi, Tarun Sawney, the Asia Pacific Regional Enforcement Manager of BSA claimed that infringement of copyrighted computer software stifles the local software industry's development, creating a loss of tax revenue and employment opportunities in the local economy.
According to Mr. Sawney, "The extremely high rate of software copyright infringement in Viet Nam causes severe revenue losses. By comparison, the rate of only 25 percent  in the US causes a loss of more than US$7 billion annually.

That means Viet Nam's software industry seemingly cannot move forward because of software piracy."
He added that BSA took a company in Chengdu, China to court for using pirated software of Adobe, a member of this alliance, in 2004. BSA won the suit and the company was forced to pay approximately US$35,000 in compensation and legal costs.
"BSA will do the same thing to any enterprise in Viet Nam that is found using pirated software." Sawney warned.
However, BSA's Enforcement Manager also praised the recent performances of Viet Nam's government in raising the awareness of copyright protection.
Mr. Sawney went on to say, "The rate of software copyright infringement in Taiwan was 72 percent in 1994. But thanks to the Taiwanese government's initiatives on protecting copyrighted software, the rate fell dramatically to 43 percent by 2005. I believe Viet Nam will be able to achieve similar successes on the near horizon."
Last year's rate of 94 percent in Viet Nam has fallen only slightly, but it still marks a positive signal in the fight against software piracy.
According to the chief inspector of the Ministry of Culture and Information, the relevant government agencies will continue to strengthen the implementation of laws on intellectual property, including software copyright protection.
"Relevant units are forging ahead with new regulations on software copyright protection where the heaviest fines on software infringement will be 5 times higher than the loss." said Vu Manh Chu, Director of the Copyright Office of Viet Nam.
In recent years, the government has instituted stronger policies on software copyright protection in order to boost the local software industry and create a healthy environment for foreign investment.