The Ministry of Post and Telematics (MPT) signed a strategic partnership agreement yesterday in Ha Noi that will provide licensed copies of Microsoft Office to various Departments of the Government.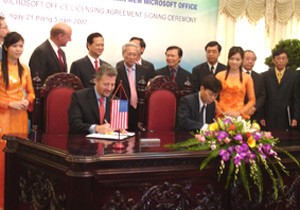 Microsoft CEO Steve Ballmer (2nd, L, in the rear) and Prime Minister Nguyen Tan Dung (3rd, L) witness signing of licensing agreement
Microsoft CEO, Steve Ballmer, met with Prime Minister Nguyen Tan Dung for a one-day visit, during which both witnessed the signing.
 
Under the agreement, the two sides will focus on four major areas to hasten the development of local information and communications technologies (ICT) with the aim of enhancing Viet Nam's knowledge-based economy.
 
The four areas include the provision of software and hardware to improve productivity, development of e-government infrastructure and technical skills, narrowing the digital gap and supporting local software enterprises.
Of the four, development of software will be a priority. Under this component, Microsoft will assist Viet Nam to promote the potential of Viet Nam's software industry.
Plans are being drawn up to set up an ICT fund in Viet Nam which will be managed by Microsoft to help 20 independent Vietnamese software vendors to develop high-quality solutions for export and promote cooperation within the industry nationally.
Experts say that the deal will increase the size of Viet Nam's ICT industry by four times in the next three years.
The agreement showed the Vietnamese Government's strong commitment to protect intellectual property rights, a key foundation for economic growth.
Under the agreement, the Vietnamese Government will buy Microsoft Office software licenses for all computer systems at central and local administration agencies.
The software will be distributed by FPT and CMC, key distributors of Microsoft products in Viet Nam.
In a press release, Microsoft said the agreement would help the country reach its targeted goal of a US$10 billion ICT industry by 2010.
Jeffery Hardee, Vice President for Asia and Asia Pacific at the Business Software Association, an intellectual property advocacy group, applauded the move by the Vietnamese government, "which clearly demonstrates how serious it is in protecting IP rights and reducing piracy".
On the same day, Microsoft also inked an agreement with the Ministry of Education and Training, and another with the Bank for Investment and Development of Viet Nam (BIDV).
 
BIDV signed a contract with Microsoft giving them permanent ownership of 6,000 licenses for Microsoft Office Standard 2007 software and any new version that the global software giant rolls out in the next three years.
Furthermore, all BIDV employees will be given legal ownership of a copy of Microsoft Office Standard 2007 for use in their homes.
Mr. Ballmer only said Microsoft will provide students with low-priced software for them to use at school or at home; and Microsoft will help Vietnamese teachers and students improve their efficiency in terms of teaching and studying.
Viet Nam is Mr. Ballmer's first stop on his week-long Asia-Pacific tour. After Viet Nam, he travels to Malaysia, Singapore and Australia.