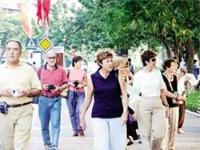 Required information will be provided effectively to foreign visitors to Ha Noi by the touch-screen systems.
In 2006, the Ha Noi Tourism Department plans to install 3 touch screen systems, aiming at providing effectively information to tourists to the capital city of Viet Nam.
By touching the keys appeared on these screens, tourists can know about the Vietnamese festivals, entertainment activities, shopping centers, tourism points, hotels, restaurants and other useful information related to the capital city's tourism industry.
This new model of information reference is aimed at drawing the tourists' curiosity and effectively providing them the required information, said an official.
Besides, the touch-screen systems have many advantages including theirs nice pictures, clear displays and especially the user-friendly interface, to which users can become accustomed at the first use without further guidance needed.
Currently, the systems' software is built in two languages Vietnamese and English, and the Ha Noi Tourism Department expects to provide other versions in the near future.